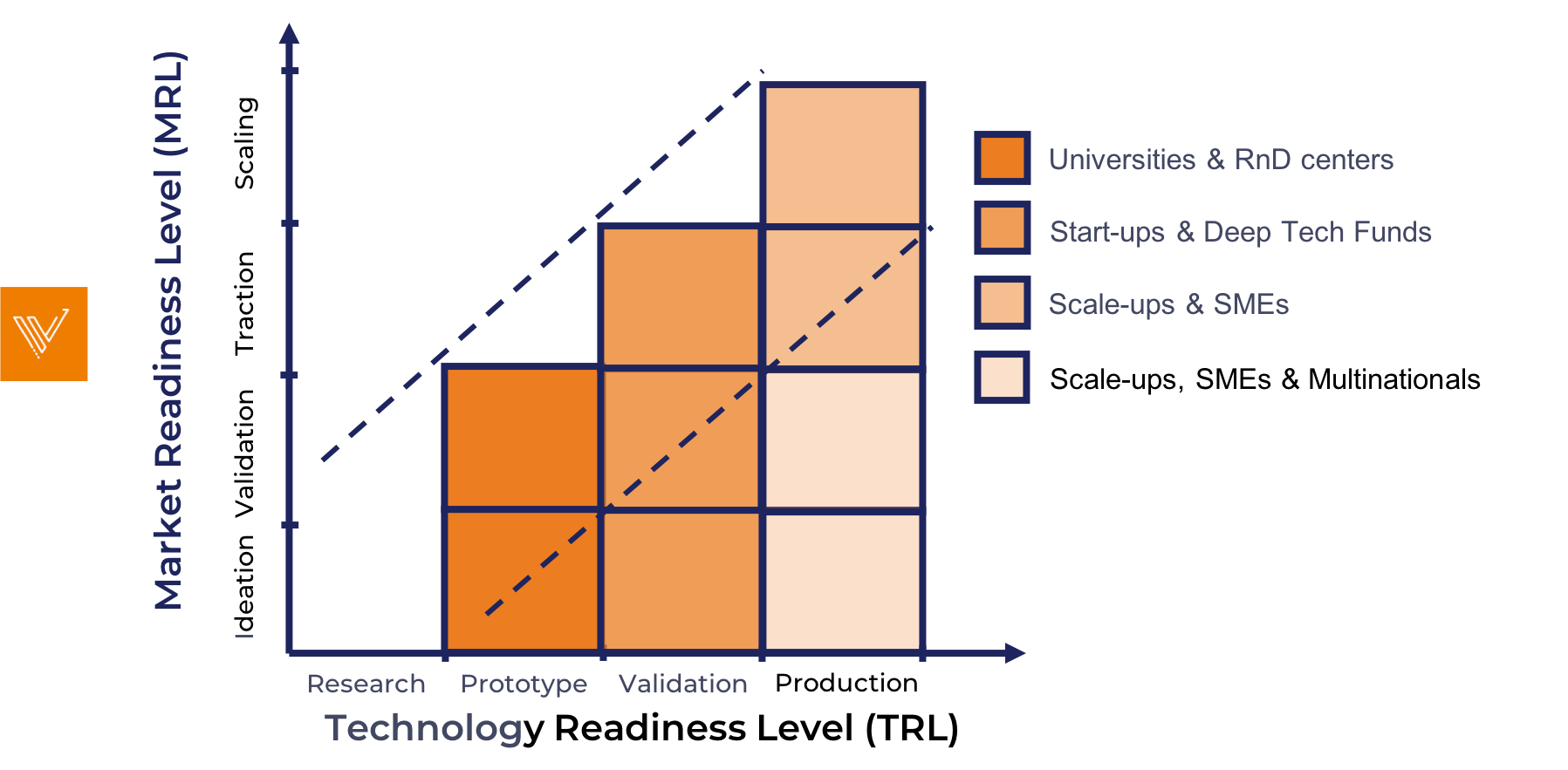 Development of advanced material technologies is a long and resource intensive process. In order to maximize the chances of success on the market it is of key importance to align your technology development efforts with market insights even at quite low technology readiness level (TRL). The types of market insights however largely depend on the stage you are in.
Prototyping stage
From the moment you reach the level of successful prototyping of your technology and you aim to further invest resources into validation at a larger scale you've reached a first pivotal point. At this stage it is important to obtain a good understanding of the direction in which your technology should be further developed. This will strongly depend on the differentiating properties of your technology on one hand and the technology requirements in the targeted applications on the other hand.
The Venturi Tribe can:
do an objective assessment of your technology to understand its true differentiators from the incumbent technologies
probe different potential target markets for feedback on the interest in your technology and obtain an understanding of the expected market needs (drivers, hurdles and counterforces) in a time horizon matching the required upscaling period
Validation stage
You are able to demonstrate the expected performance in the intended environment or even able to produce at a pre-commercial scale. From that point on, your market focus should switch to finding the right partners willing to go for co-development trajectories and evaluate your technology within their real life context. These will be the early adopters of your technology. From these co-developments, your technology will be more and more aligned to the application specific needs and result in a well-defined product definition. This will again clear your path to upscaling to an industrial scale.
The Venturi Tribe can:
help you in finding the burning technological challenges in the market where your technology is outperforming the incumbent technologies
identify the right co-development partners to evolve your technology to products able to fill in the unmet market needs
Production stage
You are able to produce at a commercial scale. From that moment on the focus should shift to finding volumes to fill your production. Your beachhead market is preferably clearly defined to focus is on gaining market share.
While your main focus should be on winning this first market, it is important as well to keep your eyes open for new opportunities where your technology may have a role to play.
The Venturi Tribe can:
support you in identifying new customers in your beachhead market and move towards initial sales
help you stay on top of new business opportunities in line with your technology and generate initial traction in new markets
In a strong tech-push ecosystem, such as research driven consortia, the insight in market dynamics provided by The Venturi Tribe is highly appreciated by industrial partners and helps to identify and select relevant potential business cases. Flexible and hands-on approach
Working with The Venturi Tribe was a breath of fresh air after previous consulting companies or market analysis agencies. Instead of buzzwords and long empty sentences, you get a clear triage of the market: where to go and where to stay away (for now). They even managed to answer all the in depth questions R&D had, We were truly impressed.
"As a biorefinery technology platform, BioCon is actively scouting the best market opportunities for our products. The Venturi Tribe helped us to (re)focus our attention in this complex ecosystem. We especially appreciated their bottom-up analysis, combining insights from a lot of individual key players, to reach an overall view on market challenges, trends, and opportunities, yet with sufficient detail and specificity to make it practical."